Halloween has always been one of my favorite holidays. I guess, I get that from my Dad. He always made sure that Halloween was extra special for us growing up. We ALWAYS carved pumpkins together as a family in the garage, usually with Jimmy Buffet or George Straight tunes playing in the background. When our carved masterpieces were complete, we'd line up our pumpkins, have a grand lighting ceremony then admire our work from the street. Even through college, my siblings and I all continued to participate in this tradition – sometimes with friends or love interests in tow. When we were little(er), on Halloween night, my Dad would set up "Jack," the giant (actually larger than life) stuffed gorilla, in the study window and playa creepy tunes through the intercom system to spook the trick-or-treaters. My family has definitely always been big on traditions so Dan and I are having a blast creating some new ones with Olivia's firsts.
Needless to say… October is definitely my favorite month of the year. Maybe it's the predictably beautiful weather (both here in Dallas and in SoCal)… or Pumpkin Spice Lattes, boots + sweaters… carving pumpkins, the texas state fair… Dan's birthday, our wedding anniversary, halloween… it's always a pretty eventful month in our house.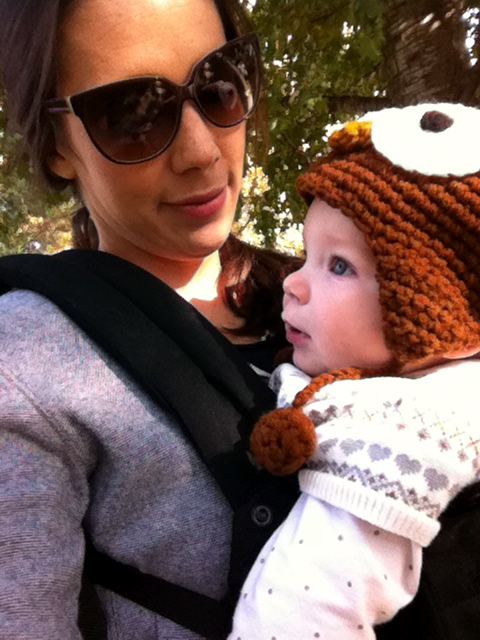 This year we celebrated our 2nd Anniversary (10/10/10) with a celebratory dinner at Sissy's Southern Kitchen – followed by a night at the Texas State Fair. Even got to see Big Tex before tragedy struck. We've made several trips to the arboretum, a trip to the Flower Mound Pumpkin Patch, and enjoyed the gorgeous October weather – granted it's been ALL over the place this year… 80s one day, 50s the next.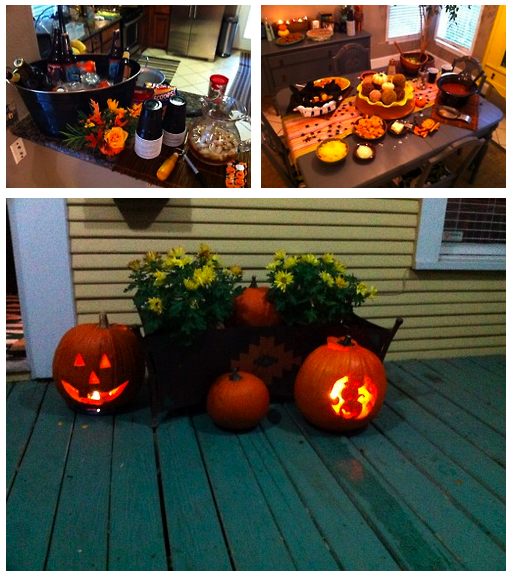 This past weekend, we had a bunch of friends over (for a VERY last-minute-non-party) to carve a few pumpkins, enjoy some festive food and watch a scary movie. I don't know how it happens, but it seems that WAY too much time goes between getting our big(ger) group of friends together. (Thank You Brian Kress for pointing that out!) It got me thinking, I always blame our anti-social tendencies on the baby &/or tight budget – but in reality it's just plain difficult to get everyone's schedules and availability aligned. Dan and I debated for weeks on wether or not to throw a Halloween "party." Then, just a few days prior – feeling slightly bummed that I STILL hadn't organized anything… We decided, What the Heck! – NOBODY CARES if our yard is a mess, or our house isn't totally spotless clean… What really matters is just getting together with good people… catching up, sharing a meal… and having a little fun!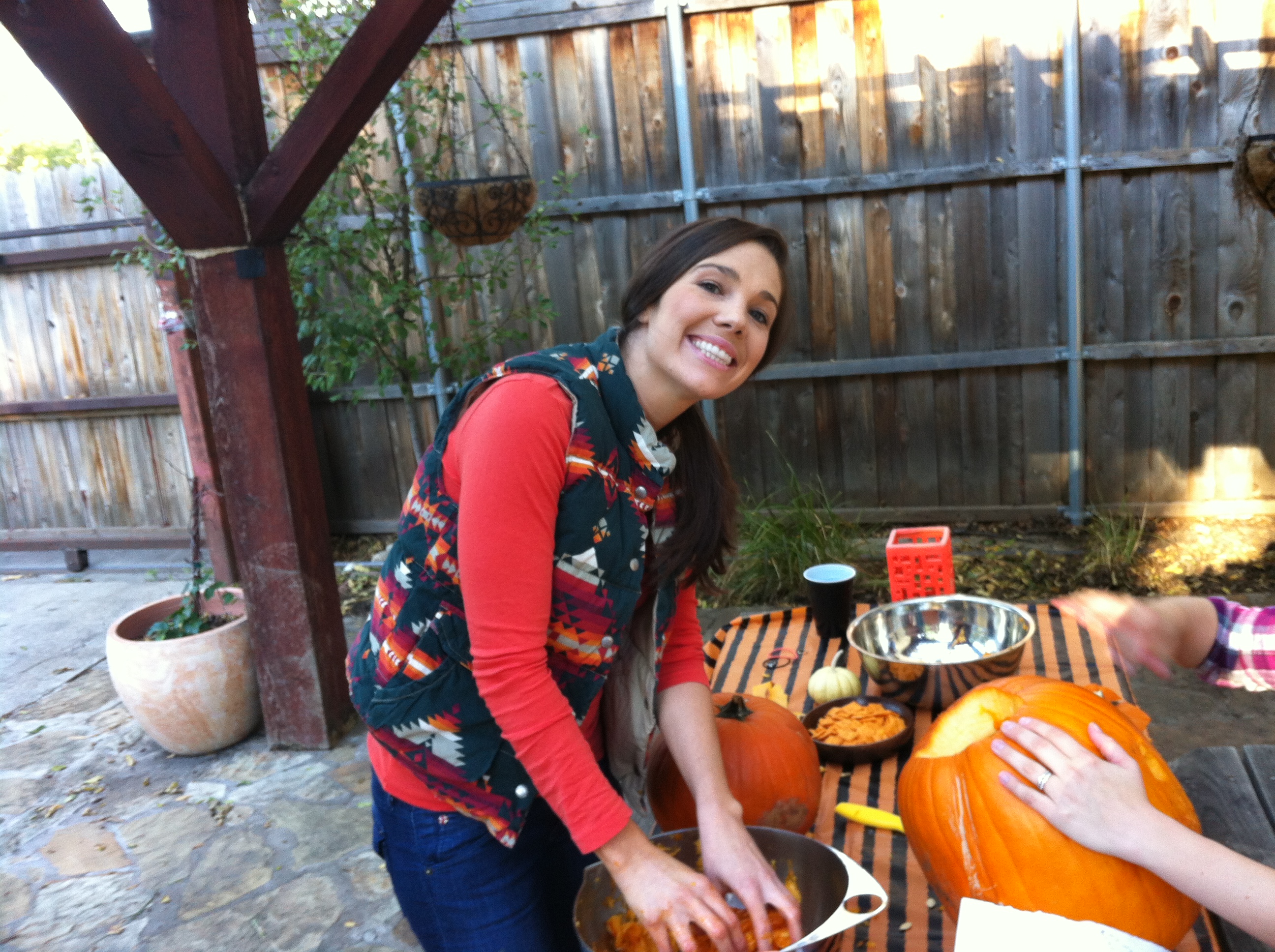 ;
Unfortunately, Daniel had to travel for work again this week and he won't be home in time for trick-or-treating. Liv and I may make a spin around the block (Swiss Ave. is a pretty happenin' place on Halloween) or we may call it an early night… just thankful that Halloween becomes a 2 week ordeal when you have kiddos… and we've already celebrated in lots of festive ways!
Ten MORE Things I love about October (And Fall in general)
1. Finally feeling legitimate about wearing sweaters + boots
2. Pumpkin Spiced Lattes + Pumpkin Bread
3. Wearing Daniel's Flannels
4. Carving Pumpkins
5. Using the seat warmer in my car
6. Slippers, Sweatpants + Hoodies
7. Soup + Cornbread
8. Enjoying the crisp cool air outside.
9. Reminiscing while looking through our wedding "album"
10. Darker, earlier evenings… makes me feel like I'm staying up REALLY late.
;
;
;