Stats:
16.8 lbs
26.5 inches
Size: "9 Months"
Nicknames: Sneekle Freetzie, Little Bug, Liv, Liver Dude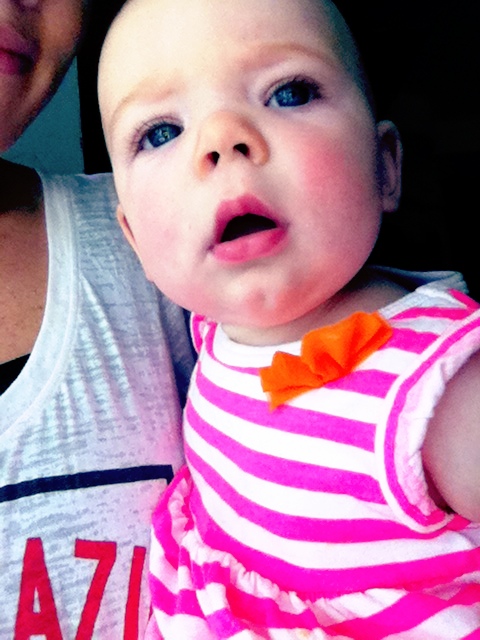 Loves:
Freezie Treats (Frozen Teething toys of any variety)
Sophie
Raffy the Giraffe
Playing on the floor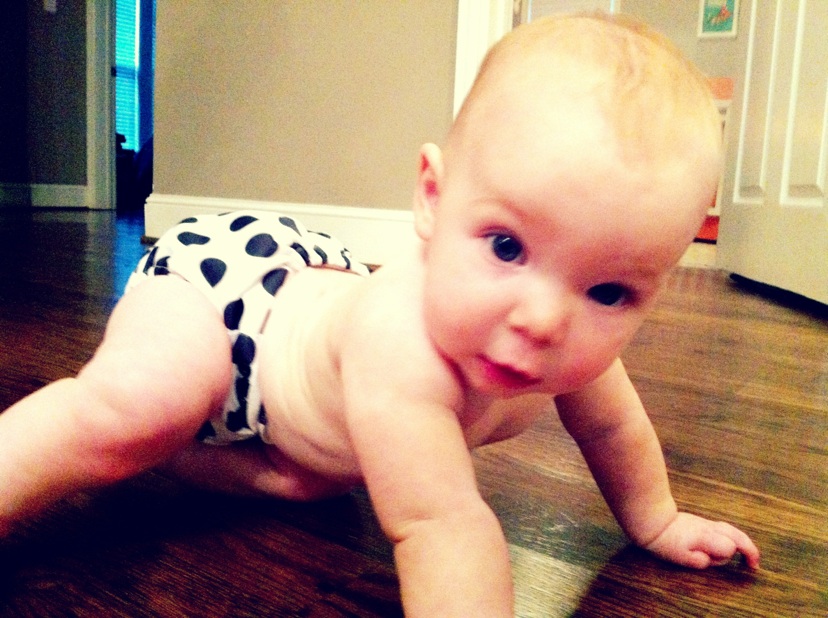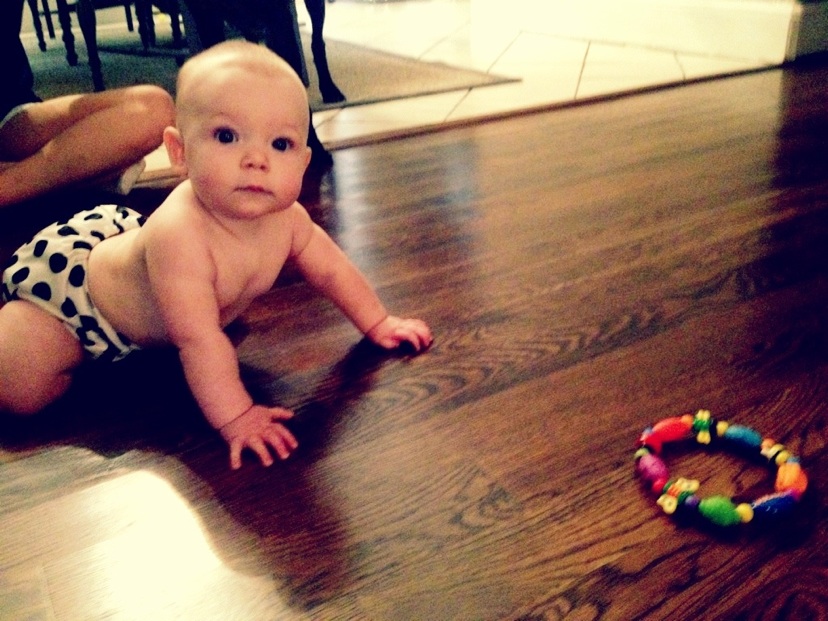 Playing in the laundry basket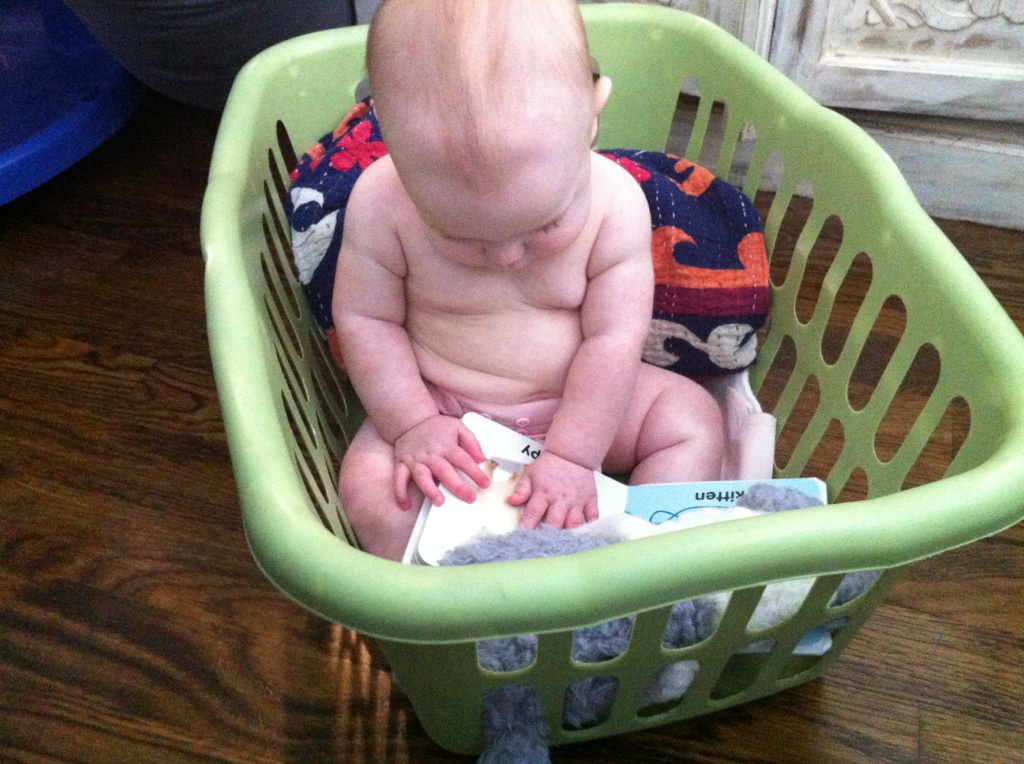 Listening to dad play piano/ guitar
Flipping upside down
Playing with the baby in the mirror
Listening to tunes in the car
Play dates with Charley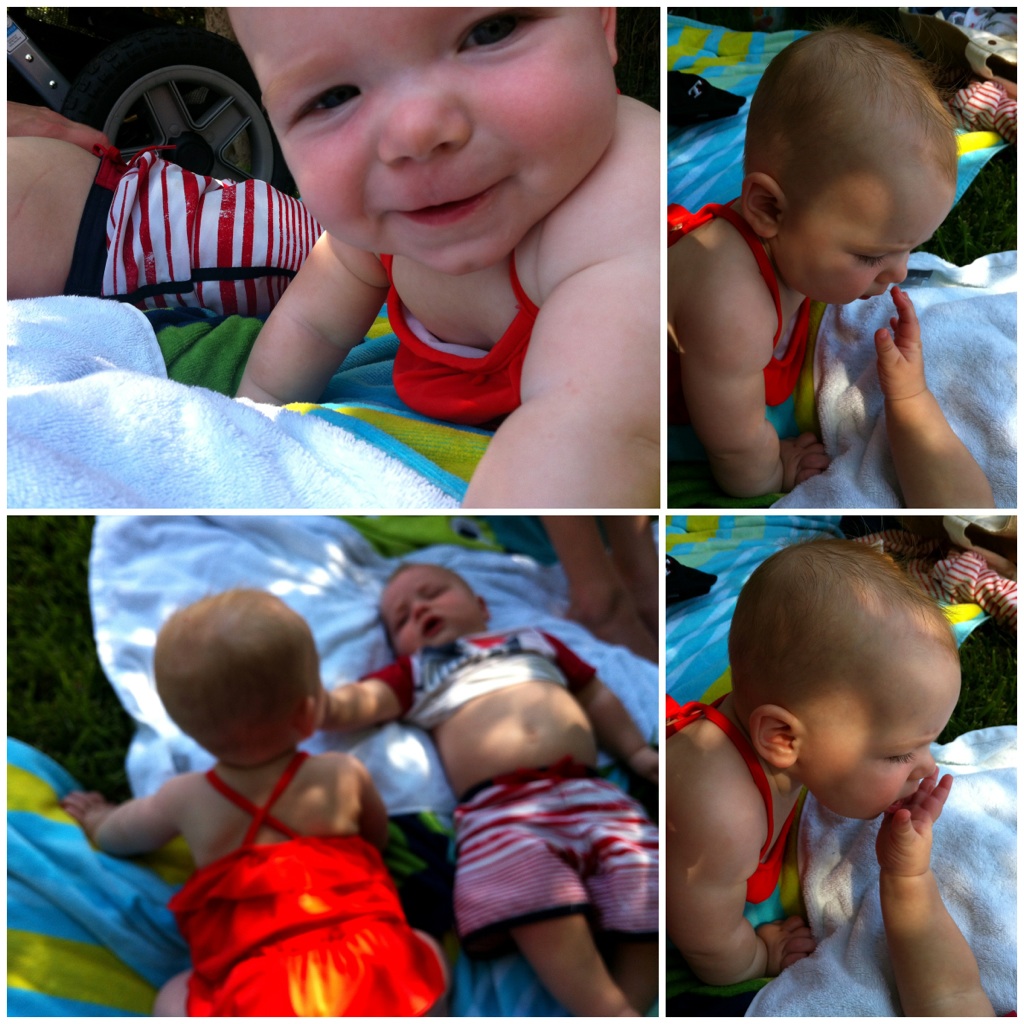 Riding in the Moby Wrap with Mom, Snugli with Dad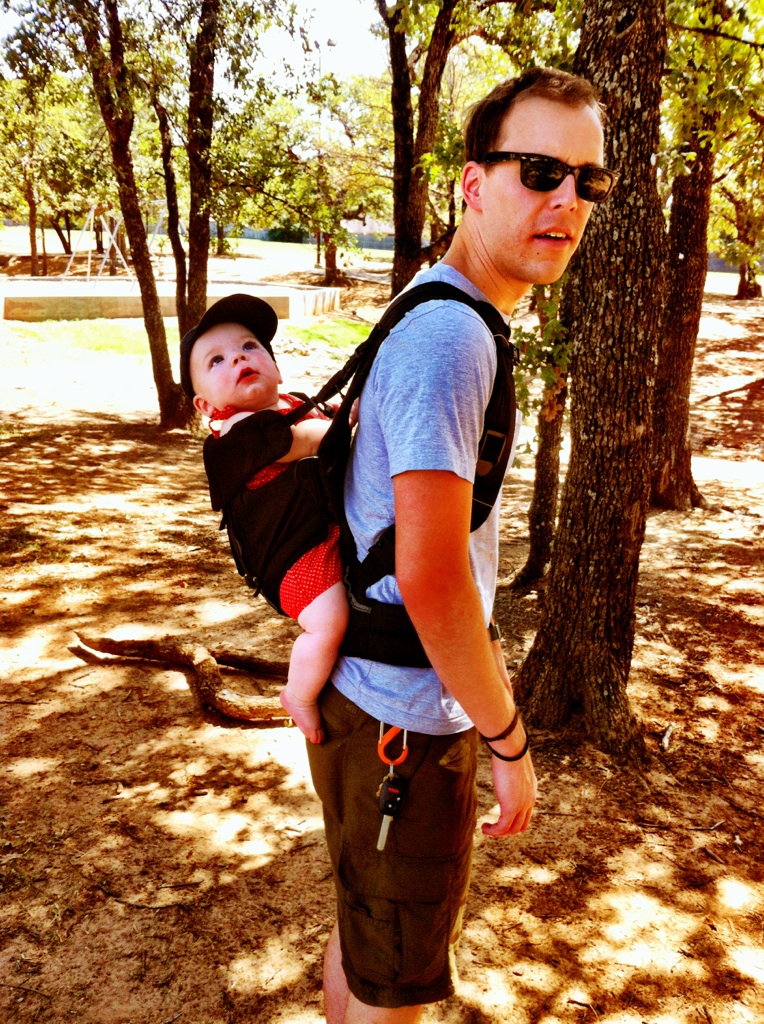 Bath time with Dad (especially fond of the red octopus squirty toy, orange starfish + eating bubbles)
Favorite Books: "Where's Spot?",  "Rainforest Discoveries" AKA Ooey Gooey Rainforest and "Animals"

Favorite Bedtime Songs: "Are You a Dreamer?" Denison Witmer , "Bitte Ein Kuss" Jonah Matranga
Cucumber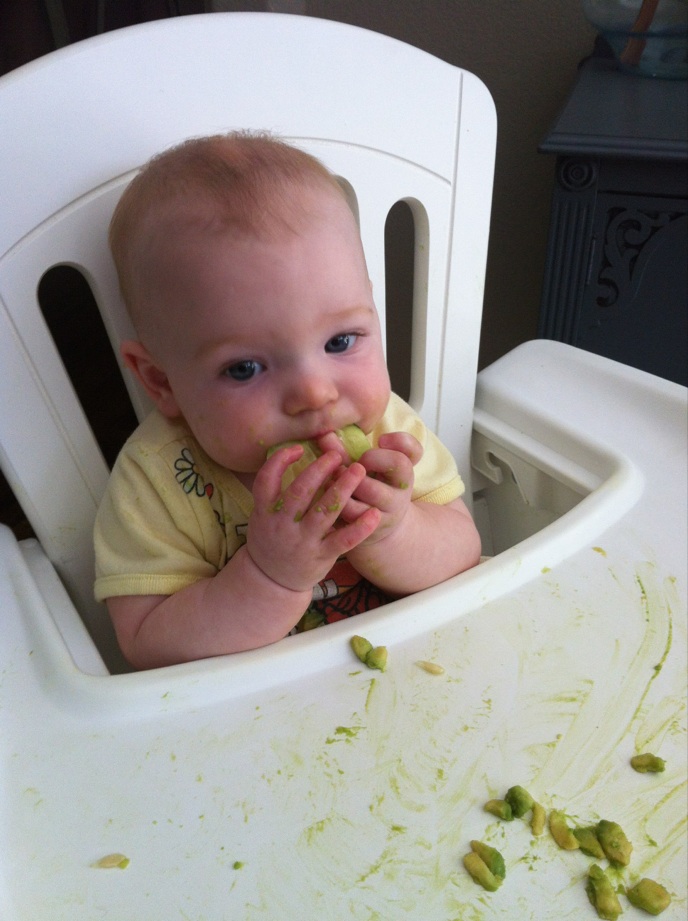 Cranks:
Being in the car seat for extended periods of time
Sleeping in her own bed at night
Eating Baby Food
Having her nose suctioned – boogies wiped
Milestones
CRAWLING!!! As of 9-14-12 🙂 At exactly 7 months!
(Video + Coaching compliments of Auntie B)
Licking Lips
Motorboat noise
First time at MOPS
Exclusively cloth diapering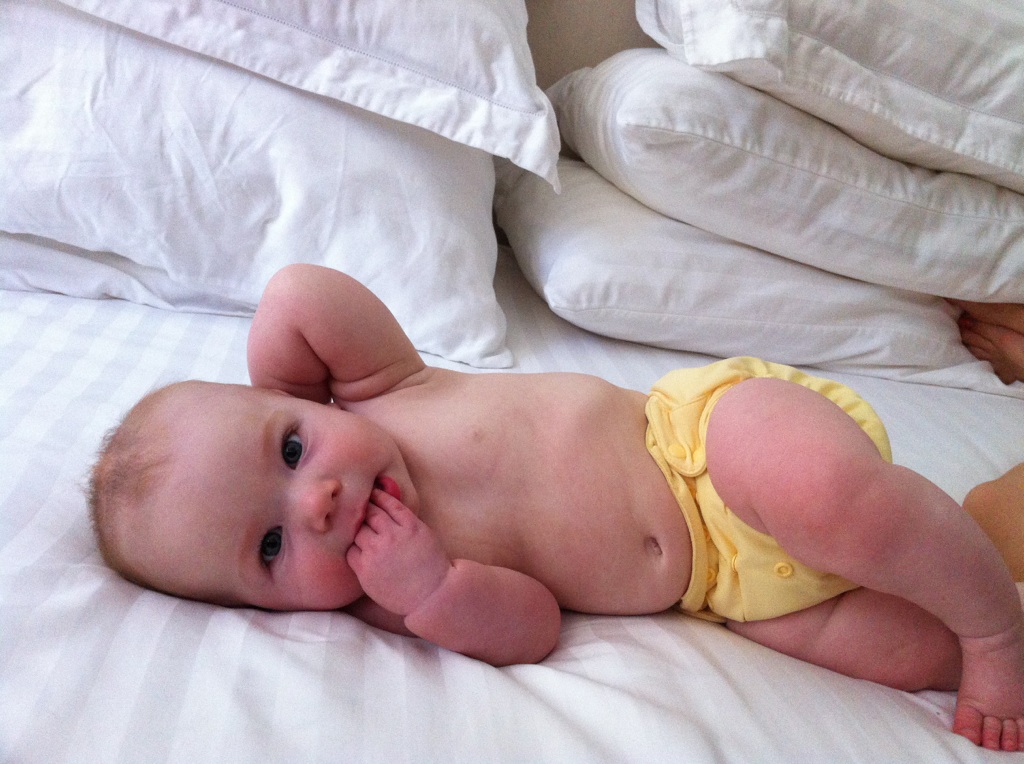 Successfully napped in the pack + play @ Michelle + Charley's house!
Consistently taking 2 good (1-2hrs) crib naps a day
TRIED solid foods for the first time (Rice/Oat Cereal, Sweet Potatoes, Avocado, and Carrots)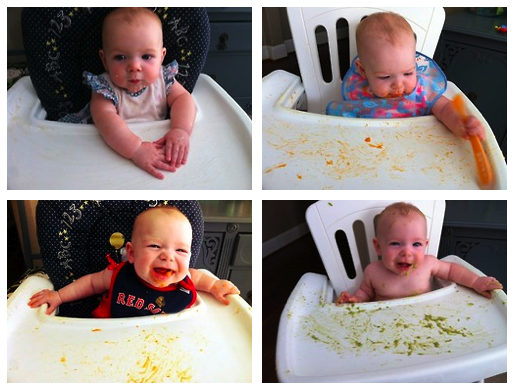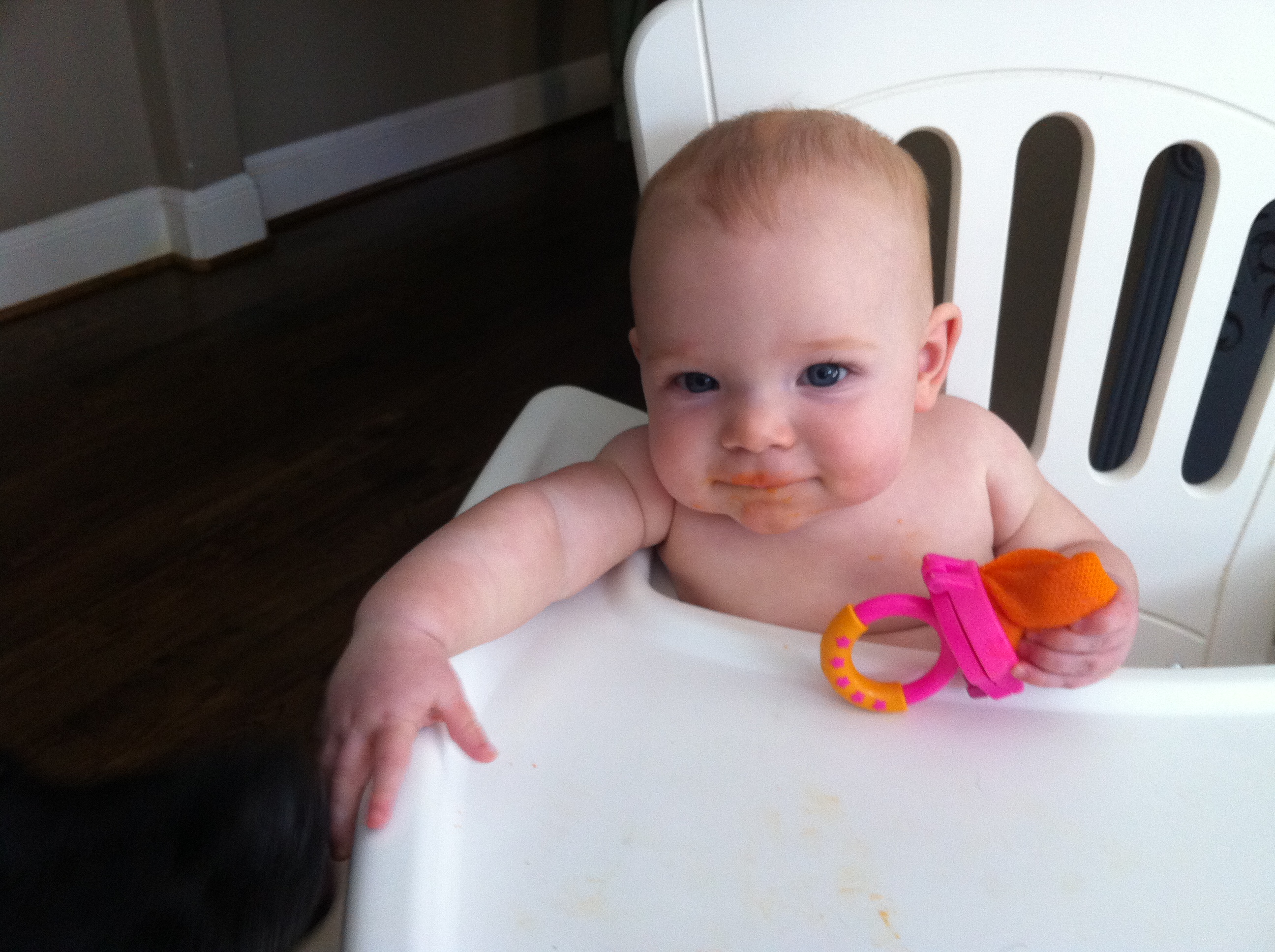 Sitting up alone (but can't be trusted to not "tump" (tip + dump) over)
Maneuvering from seated to crawling position and vice versa
Making Dinosaur Noises in her crib when she wakes up (on the rare occasion that she ACTUALLY wakes up there)
Learned how to kick mobile in crib until it comes on
First Cold (YUCK!)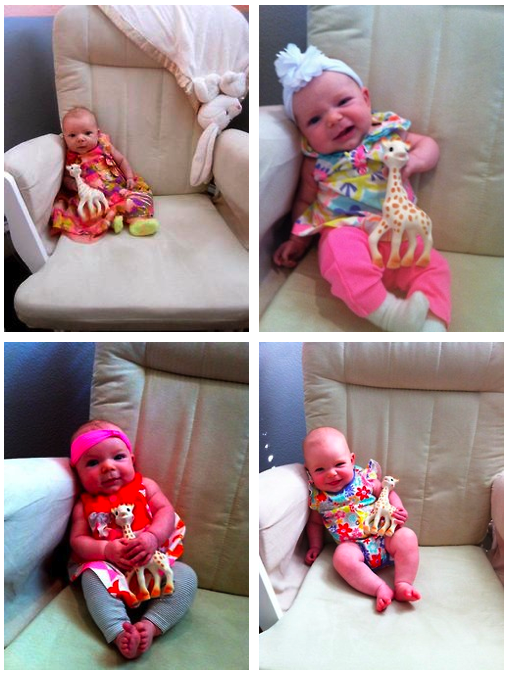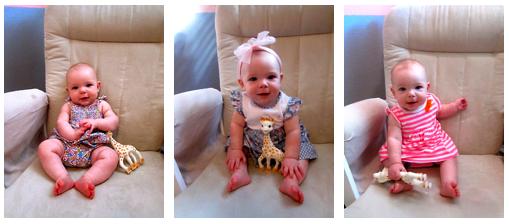 It's getting increasingly difficult to snap an in focus of this lil mover…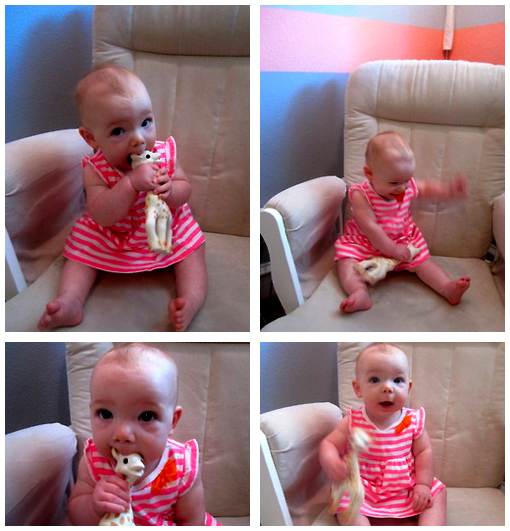 Daily Routine
5:00AM-7:00AM Cuddle (Read: Kick) mom in bed until she wakes up
7:00-7:30AM Nurse then play in bed while mom checks email, pays bills, blogs, internets…
7:30-8:30AM play on the floor while mom attempts to work out
8:30-9:30AM Hang in the Exersaucer or Moby while Mom gets something to eat for breakfast, makes a plan for the day
10:00AM Nurse then morning nap
11:30AM Wakes up from morning nap
12:00PM Attempt to eat lunch
1:00PM Nurse
(Run Errands with Mom, Play dates + fun stuff, chores + cleaning, etc.)
4:00PM Nurse
5:00PM Play on the floor in the kitchen with "The Durch" while Mom cooks dinner
(6:00PM Sometimes Nurse)
6:00PM Hangout with a Freezie treat (sometimes a Veggie Pop) in highchair while Mom and Dad eat dinner.
7:00PM Read Books with Mom
7:15PM Bath time with Dad
7:30PM Lotion + Baby Massage, PJs, Vit D, brush gums, etc.
7:45PM Nurse, cuddle with bunny blanket, songs + prayers
8:00PM Asleep
3:00 – 4:00AM Usually wakes up to eat, then ends up in bed with Mom + Dad  after multiple failed attempts to go back to sleep in her crib.
On any given day… our living room looks like this: