While I was pregnant, I spent a great deal of time wondering what it would be like to leave the hospital holding a baby that was INSIDE me just days before. Although I hadn't given it much thought before Olivia arrived, I could have predicted that I would be a huge fan of baby wearing. From the newborn stage, I have loved carrying Olivia close to me – the same way I loved carrying her for 9+ months in my belly. (Yes, I am one of those crazy people who can say I truly loved pregnancy – physically and emotionally. I can honestly say, I'd never felt better…healthier and happier – More on that Here)  
On the subject of babywearing (one word – the act of wearing a baby); I am no expert. Among other things, babywearing is one of the topics I wish I had researched more while I was pregnant. Mostly what to buy vs. what not to buy. We were gifted both a sling + structured front carrier (both items I registered for) which I love(d)… And even after the few purchases I've made in the past 6 months – I'm finding myself with a growing wish list of baby carrying contraptions.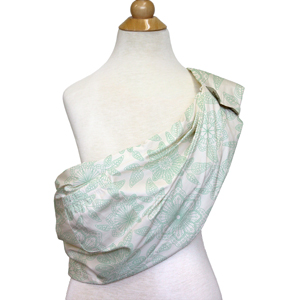 The Peanut Shell Adjustable Sling –  Only recently started to become more useful. Olivia didn't like laying in a reclined position in it… even as a newborn.  never could figure out how to nurse with her in it either. However, in the past few months, now that she's sitting up, she's more comfortable sitting on my hip and so this sling has started to come in handy. It's much easier to get her in/out of than the Baby Bjorn – great for just running in to the grocery store/dry cleaners/etc. but not nearly as secure. READ: No heavy lifting or bending over. The quality is definitely great – durable yet soft. washable. Darling pattern (I have the Vanilla Bean).  The Peanut Shell also makes cute shopping cart covers and other accessories.  Here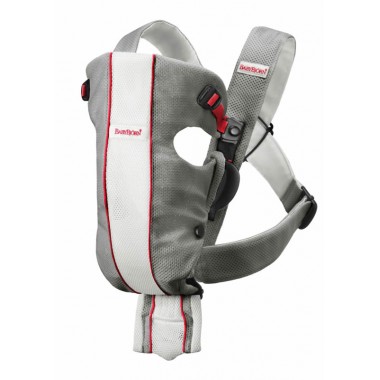 Baby Bjorn Mesh Carrier – Mentioned Here this was one of my MOST essential baby products in the first few months of Olivia's life. Since it's really structured, it was easy for her to sleep in while I walked (I walked a TON after about 3 weeks) and did chores around the house. We used the Bjorn at the very least, daily up through about 4 months. Now that Olivia is a little bit bigger (Almost 16 pounds) it doesn't seem to fit quite as well (leaves marks on her chubby little thighs) and puts too much pressure on my lower back and shoulders. Hindsight is always 20/20 – and I am definitely glad we had the Bjorn for the first 3-4 months but it didn't grow with her as much as I wanted it to. Here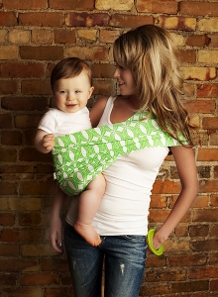 Seven Sling – I ordered this sling online Here during a "Giveaway" where you only paid the shipping fee. It was TINY, the fabric was too stiff  to stretch and by the time I was ready to give it a go – Olivia was already too big to fit in it.
Here are the most recent additions to our babywearing arsenal: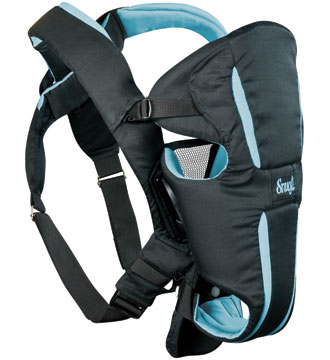 Snugli Front/Back Carrier – My mom actually found this carrier at a resale shop in CA and snagged it for us to use while we were in town. I had mentioned that I wanted to find something that worked more like a backpack to use while we were hiking and playing outdoors. Also secretly knew that Dan would be more inclined to share the experience if it were a back carry. Here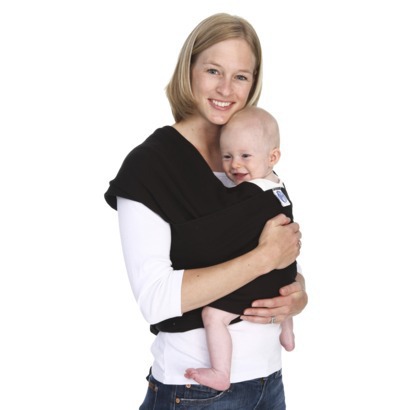 Moby Wrap – Just picked this up a few days ago – Let me tell you… it's a game changer. I LOVE it. I might not ever use any other baby wearing contraption again. Why didn't I start with this?! Would have been PERFECT for the newborn stage and yet still perfect for a bigger baby. In the first 3 carries – Olivia giggled (my happy baby is very smiley – but she saves the giggles for the REALLY good stuff- Like Moby) and fell asleep twice… FELL ASLEEP. While I was doing laundry. Just layed her little head down… and konked. At first, I thought – Whoa. She must have been really tired and I didn't notice the signs. Then the next day – It happened again. One minute we were doing housework, talking, she had "Chewie"  and the next minute… KONK – asleep, "Chewie" still in her mouth. I think the Moby might have magical powers. Highly recommended. Buy  Here    Video Tutorial Here
Helpful Resources
http://www.thebabywearer.com/
http://www.wrapyourbaby.com/
Instructional Videos
http://www.youtube.com/watch?v=Tabl1-dQfjM
http://www.youtube.com/watch?v=1_qpFYDpHcw
http://www.youtube.com/watch?v=0uXn3yr9-X4
One for the road…