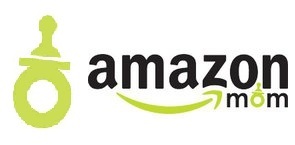 I'm curious if any of you mommas out there buy into the "Amazon Mom"  program. To my understanding, the structure of the program has recently changed. What used to be a free year subscription, available to mothers (dads too!) is now only a 3-month trial offer. The Amazon Mom trial offer includes:
20% off Select Diapers & Wipes with Subscribe & Save (automatic delivery)
Free 2-day shipping with Amazon Prime
Exclusive deals & promotions
So basically, once the 3-month trial period ends, you are automatically enrolled in Amazon Prime + Amazon Mom and charged $79 annually to enjoy the same benefits in addition to movie streaming & kindle books.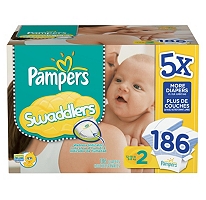 Pampers Swaddlers Size 2, 186 ct. at Sam's Club for $39.98 (21 cents per diaper)
Image From Here
vs.
With Amazon Mom "20% off select diapers and wipes" (Free 2-day shipping)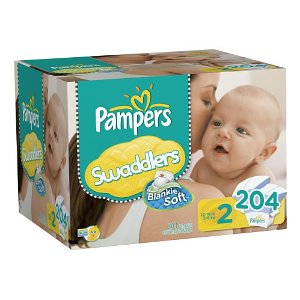 Pampers Swaddlers Size 2, 204 ct. with Amazon Mom for $37.75 (19 cents per diaper) vs. $47.19 (23 cents per diaper)
Image From Here
The savings difference is approximately $4.00. Annual Savings around $50… Only ordering diapers. But since you pay $79 to be annually enrolled (just like you purchase a membership to Sam's or Costco) my gut tells me that it doesn't make sense to enroll unless you're planning to do all of your bulk goods shopping on amazon.com. (I could definitely buy these things in bulk: Jergen's Natural Glow Lotion, Peet's Major Dickason Coffee, Sea Salt Kettle Chips) In some ways, I think online warehouse shopping might help me exercise some self-restraint… I always come home from Costco/Sam's $200+ later with items I had no intention or need for buying.
Any thoughts? Do you Subscribe & Save? Are you an Amazon Mom?
 Note: A 5% discount using "Subscribe & Save" is available (with Super Save Free Shipping) without Amazon Prime + Amazon Mom.