14.0 Pounds
23.75 Inches 
Size:  "6 month", Size 1 Diapers
Nicknames: Sneekle Feetzie, Liv, O, Liver Dude, Liv Cakes, Love/Liv Bug, Peanut, OKP
Loves…
The Baby Einstein Exersaucer (AKA "The Disc")
Sophie the Giraffe and Sophie "Chewie"
Standing while holding Mom or Dad's hands
Listening to her Daddy play guitar or piano
The "Liv, Liv, Liv" Song
The Belly Button Song
"Jump Jump Jump" Jana Alayra Song
"Where's Spot?"
Going to the Aquarium
Going to the Dallas Arboretum (AKA Arbor-eatzi-mah-bah)
Being Outside
WubbaNub (AKA WerberNerb or WerberNerber)
Morning Snuggles with Mom
"Longtime Sunshine" Song
Bath Time, Baby Massage, Bed Time
The "Climb Mommy" game
Happy Baby Pose
Putting fingers, hands, and feet in her mouth.
Cranks…
Being called "Dumbo"
Getting in the Car Seat
Being in the stroller
Not being in mom's arms
The Sling
Milestones
Babbling, Cooing, Baby talkin'
Rolls over both directions
WILL NOT SLEEP ON HER BACK
Consistently sleeping for 5+ hours stretch night.
Occasionally sleeping 8+ hours
Going to Church @ Fellowship White Rock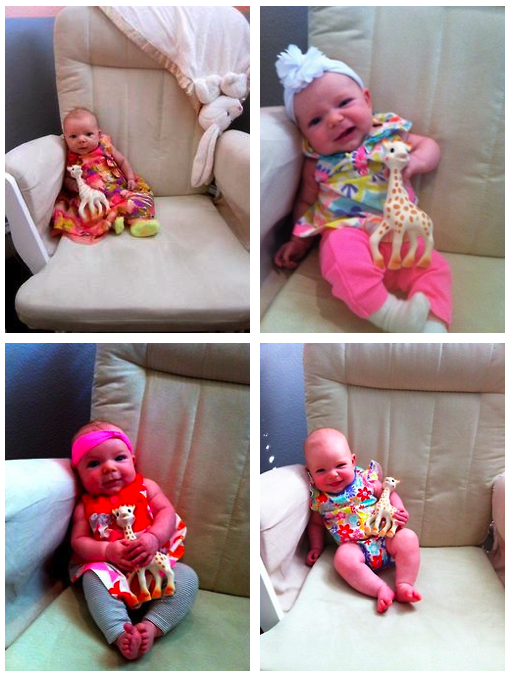 Daily Routine:
3AM- 5AM: Wake Up, Nurse, Snuggle with Mom in bed
8AM: Nurse
9AM: Nap (30MIN – 1HR)
11AM: Nurse
2PM: Nurse
3PM: Nap (1HR-2HRs)
5PM: Nurse
7PM: Nurse
8PM: Starts Dozin'
8:30PM: Bathtime, Lotion and Massage, "Jammies"
9:00PM Nurse, Songs and Prayers
1AM: Wakeful Babe = gets a paci and usually falls back asleep
Note: I need to get better at taking in-focus iphone pictures.