The other day… I found the Gelson's Kale Salad recipe on Pinterest and was inspired to make something similar for lunch… I'm not always a huge fan of raw kale – without a tangy enough dressing… it can taste like green dirt. So the version I concocted below is heavier lemon + vinegar than usual.
Kale Salad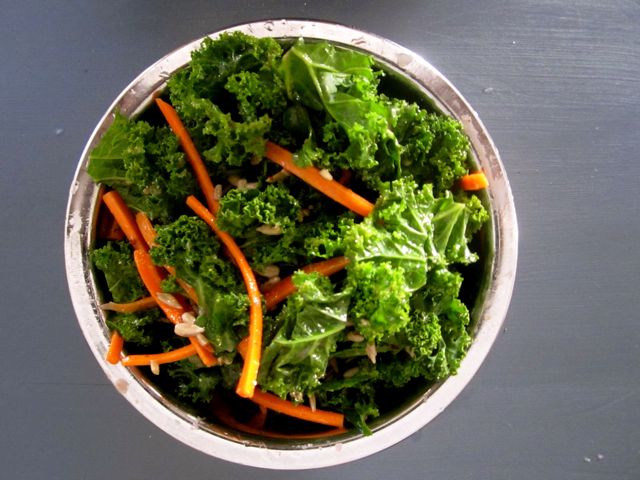 1 bunch Kale
1-2 Carrots – julienned
1/4 Cup Sunflower Seeds
2 oz. Goat Cheese (optional)
Lemon Mustard Vinaigrette 
3 tablespoons fresh lemon juice
2 tablespoons Coarse Dijon mustard
2 tablespoon white wine vinegar
1 medium garlic clove, minced
Coarse salt and freshly ground black pepper & salt to taste
1/2 cup extra-virgin olive oil
In a small bowl whisk together garlic, lemon juice, mustard, and vinegar; season with salt and pepper. Slowly whisk in oil until emulsified.
Anyone tried making Kale Chips? We're sort of on a Kale Kick over here…