The Original Momma Meg Does it again…
Chicken Spring Rolls
Makes 6 Rolls
1 1/2 Cups Roasted Chicken, Sliced
 4 Green Onions
1 cucumber
1 stalk celery
1/4 Cup Peanuts
1/4 Cup Cilantro
1/4 Cup Mint
6 Spring Roll Wrappers
Hoisin Sauce
Soy Sauce
Red Chili Paste
– Prepare fresh ingredients: Julienne green onions, cucumber, and celery. Rough chop cilantro and mint.
– Cover a shallow dinner plate with water then moisten spring roll wrappers one at a time according to package instructions (submerge for around 3-5 seconds)
– Begin by adding Hoisin and Red Chili Paste according to taste preference,then add chicken, veggies + herbs.
– Fold ends first, then roll (like a burrito!)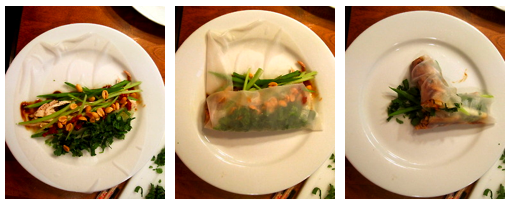 Note: This makes a really fun "build your own" meal… but also fun to serve ready to eat, especially if you're entertaining.