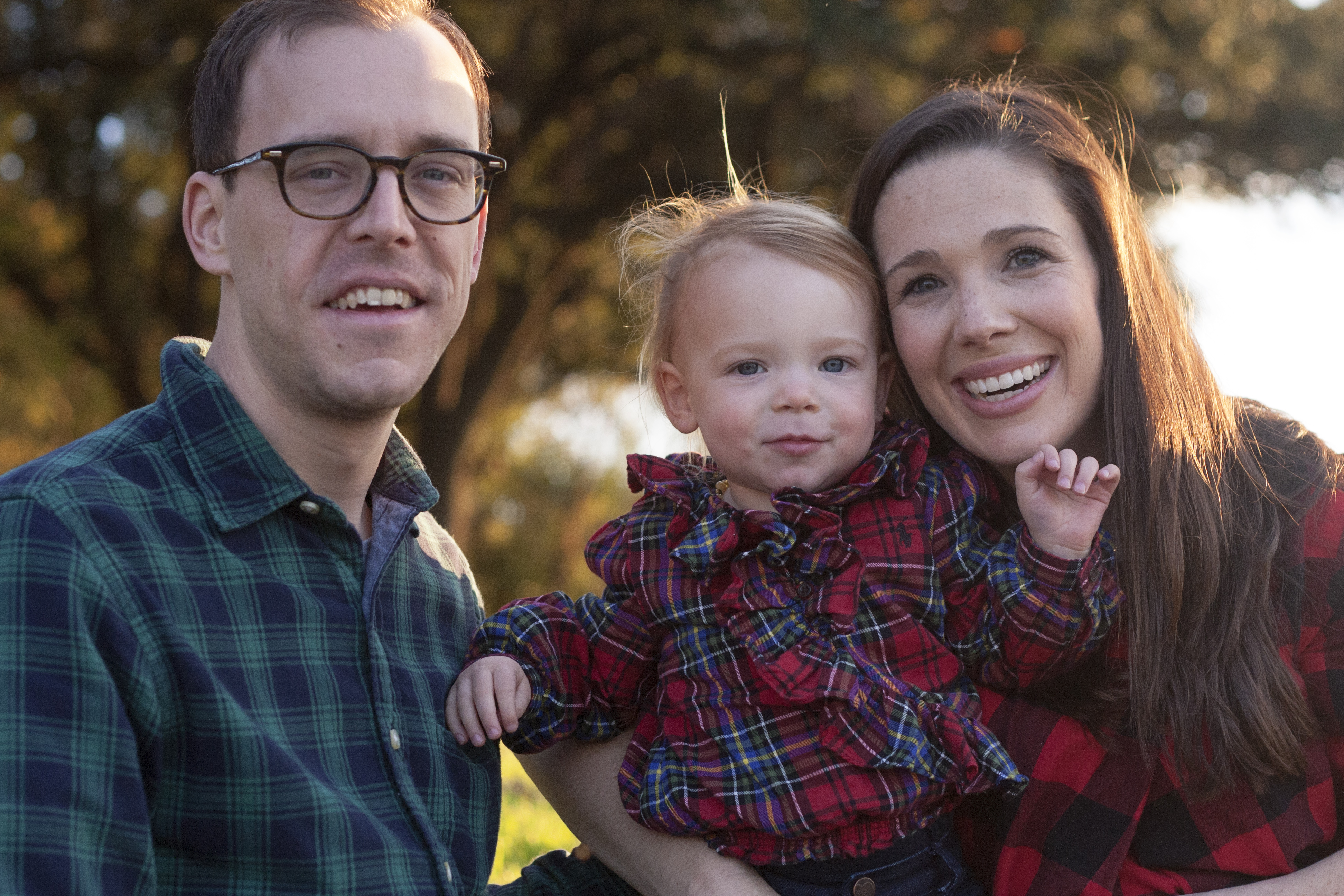 The reality is… we've had a relatively (and wonderfully) quiet year. But here goes… The Pittman Family Christmas Newsletter: First Edition
 [JANUARY] Kicked off the new year in Orange County with Family Gorham with a fun new tradition… BINGO + BEER – Not the most glamorous of celebrations but certainly the most fun you can have while your almost 1-year old is snoozing in the next room. Celebrated Daniel's Great Grandpa's life in DeLeon, Texas with family at the end of the month. [FEBRUARY] Olivia turned 1! We celebrated our little Valentine's first birthday at our home, complete with family and friends, a plethora of pretty pink hearts and a "smash" cake. [MARCH] Spring brought the beginning of toddler-hood as Olivia started walking at around 13 months old. We found a new appreciation for the beginning of park season and lots of time spent at the Dallas Arboretum and Botanical Gardens. [APRIL] Showers and storms had us spending lots of indoor time at the Dallas World Aquarium. Officially kicked Dan out of his home office, freeing up some space for Olivia's new playroom. Freshly painted and spruced-up, this multi-functional room also serves as our music room and landing spot for junk mail, catalogs and coupons.  [MAY] Olivia's Baby Dedication at our Church (Fellowship White Rock) fell on Mother's Day weekend allowing us to spend the special day with our parents. Good friends, Justin and Cassie came to visit, indulging us in showing off Big D. [JUNE] Enjoyed all kinds of wonderful nature-centric activities during an early summer vacation with Family Gorham in Sedona, AZ. Our littlest fish started her first session of swim lessons at Emler Swim School. [JULY] Kicked-off summer with a 4th of July Bash at home welcoming the Texas heat. Rising temps found us frequenting the splash pad at Klyde Warren Park, enjoying popsicles in the backyard and dining al fresco at Chicken Scratch. [AUGUST] was HOT. HOT. HOT. We became the proud owners of a brand new A/C unit. Also, charter members of the new Perot Museum of Nature and Science, officially the best place to entertain a toddler indoors in Dallas. Ended the summer with an escape from the heat to beautiful sunny southern California to visit Gramma G and Papa. Olivia enjoyed her first trip to Disneyland and we shared some BIG news with the family. [SEPTEMBER] Announced to family and friends that we're expecting Baby P #2 in April. First look sonograms and doctors appointments reveal a healthy and wiggly little nugget. Welcomed the opening of the Rory Meyer's Children's garden with frequent visits.[OCTOBER] Celebrated our 3rd wedding anniversary and Daniel turned the big 3-0. Dressed as Ladybug girl, Olivia enjoyed trick-or-treating on Swiss Ave for the first time. [NOVEMBER] Enjoyed the cooling temps and change of seasons with frequent trips to the Pumpkin Village at the Dallas Arboretum. Revealed the gender of our newest little Pittman with friends and family – It's a BOY! Then finally reclaiming energy lost during my first trimester, we hosted Thanksgiving for 9. [DECEMBER] Preparing our hearts and home for Christmas. Thanking God for a wonderful, mostly-calm year. Feeling blessed with a happy healthy and growing family.
Dan – Computerist computering computer code at a computer company. Loves being 'dayda', collecting (but never actually reading) reading material, and consuming a healthy amount of beer and coffee.  Also tacos. Contact: danielscottt@gmail.com // dpitt.me
Meg – Toddler chaser. Bun in the oven. Serial Membership Addict: Dallas Zoo, Arboretum, Perot Museum, State Parks, etc. Mastered the art of salsa and taco preparation. Relies heavily on Dry Shampoo, yoga pants and nap time. Contact: megan.gorham@gmail.com // megsmileu.com
Via – Goof ball. Chatter-Box. Mac & Cheese connoisseur. Car-napper. Calliou lover. Enjoys playing dress-up, being outside and trolling "the durch" (our 12-year old black lab – not pictured,) Pending Big Sister!