Anyone who knows me knows that I'm a "planner". A trait passed down from my grandfather to my mother, from my mother to me. Planning is in my blood. From lists to calendars, itineraries to events… I actually ENJOY planning! I enjoy planning so much that sometimes I plan too much for my own good. Occasionally (OK, Frequently) I spend more time planning than actually "doing." Still, I'm convinced that this trait IS a good thing… Even if my blood pressure is higher because of it. On the topic of planning, one of our new years resolutions this year was to better plan our meals at home at the beginning of each week in order to eat out less frequently. Dan, knowing me all too well, gifted me these "Knock Knock" planning notepads for Christmas this past year… inspiring the resolution.
Buy Here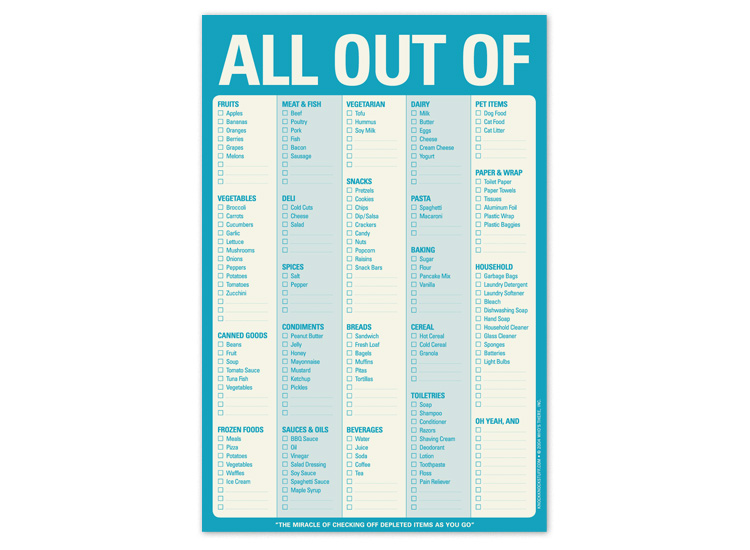 Buy Here
Lately, with surprise business trips and dinners for Dan, we've slacked off with actually following through on the planned meal. Too often we've swapped more desirable meals or meals out for the dreaded "leftovers" night… My solution. Share it here, maybe add an accountability factor at home.
Sunday mornings are usually the perfect time for planning (Liv isn't a fan of sleeping in… so the Sunday rituals usually start no later than 8). Dan gets some quality cuddle time with Liv while I cook breakfast and peruse Pinterest (Follow Me! – @mmoguu) for recipes and ideas for weeknight meals. I usually make an attempt at soliciting input from my dear husband… but his idea of a perfect dinner is grilled chicken + roasted potatoes… and if he had it his way… that's what we'd have for dinner 7 nights a week… OK- Actually 4 nights a week. and the other 3 nights would be taco night.
Disclaimer: I've never been very good at following recipes so any "Recipe" I post may include measurements of the eyeball. ie. pinches, handfuls or sprinkles.
In case you're interested… Here's this week's line-up:
Sunday: Eat Out, Stackhouse Burgers
Monday: Dine In, Burrito Bowls
Tuesday: Dine In, Chinese Chicken Salad
Wednesday: Dine In, Red Beans & Rice and Cornbread
Thursday: Dine In, BBQ Chicken, Homemade Potato Chips and Cucumber/Avocado Salad
Friday: Dine In, Chicken, Sundried Tomato, Goat Cheese & Spinach Paninis
Saturday: UNDECIDED!
With the Fourth of July and GRAMMA G COMING TO TOWN!, next week is bound to include more dining out than normal. After that, we'll be back on track… I'm already planning on it 😉 
Featured Image From Here