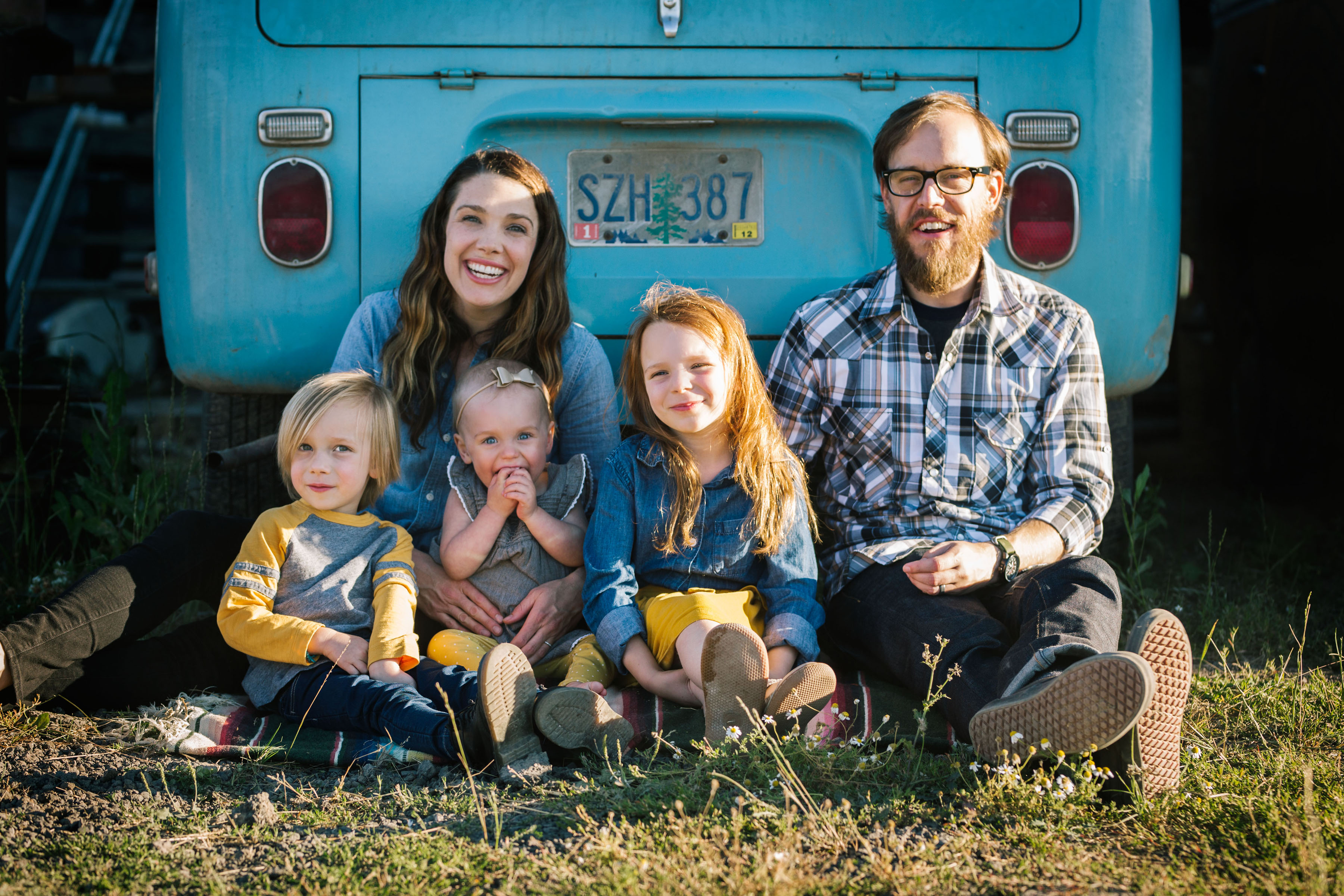 Friends and Family,

Glad you're here! Welcome to our annual Christmas newsletter, my attempt to recap our year in the hopes that I'll be able to remember it all when I'm old(er). For the more millennial-apropos account of our year, feel free to just scroll here and you'll get the gist.

In January we celebrated our 3-year Pittlandia anniversary with our first Washington-side Columbia Gorge adventure: a hike to Pool of the Winds at Hamilton Mountain.
In early February, Fern had her first major illness (RSV) with no seizures! We were thankful to be able to manage her symptoms at home. We also escaped as a family to the coast (nebulizer in tow) for a low-key Presidents Day Weekend getaway. While we made stops at the Oregon Coast Aquarium, Haystack Rock, Rogue Brewing, and Devil's Punchbowl, the kids agree that the highlight was seeing hail-snow on the beach! We saw record snowfalls and did our best to keep our little-feathered friends happy by serving up hot oatmeal in the mornings. We celebrated Olivia's turning 6 with her two best buddies and their sweet mamas at the Oregon Ballet Theatre's magical production of Alice in Wonderland.
In March, we added a couple of extracurriculars to the calendar: Townes in "Messy Art" at the Multnomah Art Center with Teacher Vicki and Olivia in an introductory dance class including ballet, tap, and jazz. Our Spring Break staycation included lots of Super Nature Adventure hikes, play dates, and trips to the Rhododendron Gardens and Forest Park. We thoroughly enjoyed the return of the sunshine, celebrated Easter with the Smiths and frolicked in the tulips with the Chens!
In April, we celebrated Townes' 4th year with a Super Nature Adventure at Cooper Mountain Nature Park. Olivia was recognized as one of the best writers in her kindergarten class at the Maplewood "Writer's Tea",  where she read an excerpt from her how-to, How To Make A Peanut Butter and Jelly Sandwich. Townes' "Messy Art" was featured in the Spring Art Show at the MAC and he quite enjoyed the spotlight and opportunity to share his artistic creations.
We all sang and danced and made flower crowns at Townes' preschool May Day celebration, one of our favorite Waldorf traditions. Spring was the beginning of a huge developmental growth spurt for Fern and she mastered the art of pulling to stand, crawling, and cruising all over the course of just a few months!
By June we were super excited for some fresh berries and for u-pick season to arrive. Olivia officially became a kindergarten graduate and we made our way back out to the coast to celebrate Father's Day with Papa G.
For the third year running, we made it to the Tigard Hot Air Balloon festival and reconfirmed that yes, the 4:45 AM wake up call is totally worth it. We may be made for Summer in Oregon—Thursday night concerts at the farm, berry picking, lavender harvesting, walks to the food trucks for al fresco dining—definitely our jam.
Our official Summer kick-off entailed a Fourth of July was a trip to a tiny island in the Puget Sound, Decatur Island to be specific, with our dear friends the Rays. It was definitely a memorable vacation. To get there our journey included car, a locals-only ferry, and the back of a pick-up. There were no grocery store, no restaurants, and only spotty cell service. However, there was also the most spectacular scenery and a perfect opportunity to disconnect. Gramma G snuck in a Summer trip and we were lucky to fit just about everything in, peach picking, snow cones and a trip to Hug Point for some tide-pooling and sandcastle making! At the end of July, we set off on our longest road trip yet with the kids: to Boise, ID for a week with Papa G and my siblings and their families. We ate some potatoes, hiked some high desert terrain, and had many a trampoline-base-water-balloon-fight in the backyard of our AirBnB. Despite all that, the highlight for me was finding out that I'm going to be an Auntie (again!). My youngest sister Emily and her husband Holden are expecting their first sweet baby this Winter!
August. After a quick turn around at home, we set off to meet up with Mamaw and the Rakowska family for a week in Nederland, Colorado. Amidst a pile of cousins, we enjoyed hiking, kayak, and paddle-boarding, and exploring the Boulder area. Soon after, dressed in tie-dye, we marched with Townes' preschool in our neighborhood Multnomah Days Parade. Bittersweetly, we spent as much time as possible getting in our last hikes, u-picks, and splashes before Summer said goodbye.
September brought lots of change for our family. The transition from the easy days of Summer to more structure and routine was welcomed on all fronts. Dan started a new job, a new company in fact, with some of the coworkers he'd met at PolySync after they were all suddenly let go. Auxon's mission is to make critical software systems safer, by making software engineering feel more like real engineering. Olivia started the 1st grade in Mrs. Abel's class at Maplewood Elementary and Townes, his second year of preschool at Woodhaven School in the Sunflower Class. To commemorate Fern's second year here on Earth, she got intimate with a New Orlean's style doughnut and had a nice quality of life improvement precipitated by a pair of tubes in her ears. Yay for hearing! Dan traveled to Saint Louis to speak about dependent type theory and using it to prove properties about software at Strangeloop, a conference for people who are doing interesting and esoteric things in software.
Dan and I celebrated our 8th Wedding Anniversary in October. We saw the addition of a fantastic new developmental pediatrician, and an occupational therapist to Fern's team and embarked on another round of genetic tests. Auntie Em came for a special solo visit and we spent lots of time catching up, indulging pregnancy cravings, and carving pumpkins! For Hallows eve, we took to the 'hood with a chicken, a robot, and tiny pink superhero on a surprisingly dry night of trick-or-treating.
November came and we welcomed the darker days of the season in a celebration of light and giving; the lantern walk through the forest at Townes' Waldorf preschool. Dan imported some of his friends for a Portland staycation full of music, beer, poetry, and hiking. We enjoyed a low-key Thanksgiving at home with the additions of Mamaw and Uncle Chip, complete with handmade place cards and after-dinner entertainment.
We started December by paying reverence through the Spiral Walk at Woodhaven, a Waldorf tradition meant to celebrate the coming turn of seasons and the "rebirth of light". The days are extra short here this time of year, and although it's always an adjustment, we welcome the opportunity to for all things hygge: toasty fires, warm wool socks, hot homemade soups, puzzles and books, and crafting and baking. I know I mentioned earlier that we were MADE for PNW summers, but we have truly come to appreciate the seasons here.
Once again, we ventured out to Hillsboro farmland to cut ourselves down a Christmas tree. On account of us waiting a week or so longer this year (December 1st!), coupled with a tragic shortage of firs in the PNW, we found ourselves with literal slim-pickings. This year, our Noble Fir is closer to a pear in shape than to a cone, but this obtuseness doesn't affect its efficacy as a source of gravity for presents, mirth, and Fern. We have been slowly working our way through our Advent bucket list, a mother-daughter date to the Oregon Ballet Theatre's The Nutcracker, making Dawn's famous toffee, visiting Peacock Lane, seeing the Zoo Lights, etc. We'll end 2018 in the company of all of our family, trickling in a little at a time taking us into the new year surrounded by love!
Although I have glazed over it here, our year was filled with a fair amount of trial. Dan's grandfather passed away over the summer and he made a last minute trip to Ft. Worth to spend time with his family. We are still ticking boxes along Fern's medical journey and although she is making steady progress, we still don't really have any concrete answers. We have also been adjusting to life as pioneers/supporters of pioneers in the tech start-up world. Our small flock of hens sadly decreased by 2, one taken by illness (Sam), one by a predator (Oakie). All in all, we are so thankful in these circumstances as 2018 has been happy and healthy. We hope that we can reflect the warmth we feel on to you and yours.

Cheers!
M + D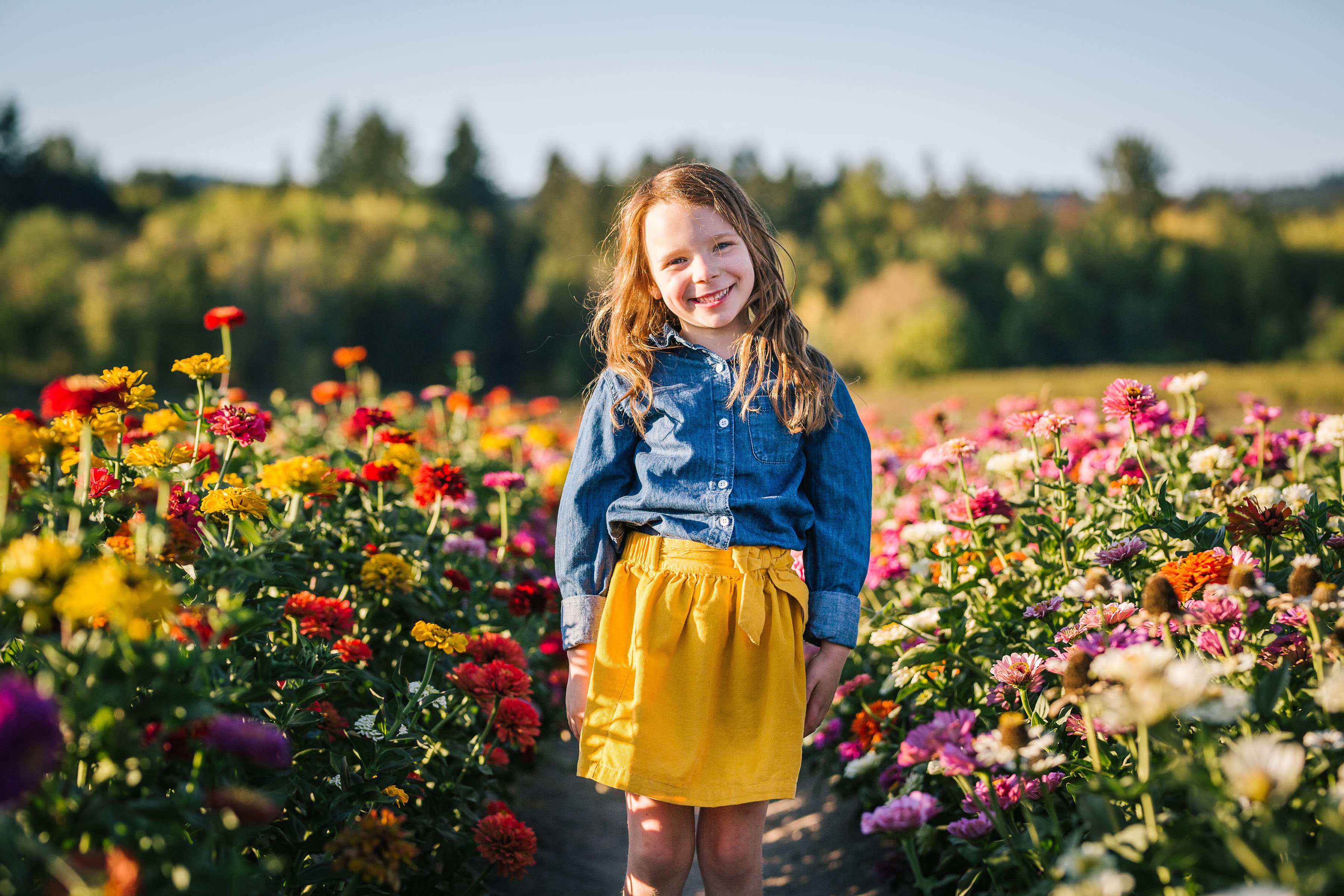 Olivia (6 years old)
Olivia started the year very passionate about ballet but quickly realized that her love for the art was not strong enough to overcome her aversion to tights. In the Spring, she gave gymnastics a try and found it to be much more of a fit! This Fall she joined Girl Scouts and has really bonded with her girls in her Daisy troop. She hopes to start an after-school watercolor program next year and possibly give ninja classes a try! Most of her free time is spent drawing or writing and "she wants to be a children's author and illustrator when she grows up. With a passion, Olivia LOVES chickens—snuggling ours, learning about chicken care, just about everything except cleaning out the coop! She's a self-proclaimed Pet-a-tarian (def: one who does not eat pets), i.e., she is not currently eating chicken. Her favorite food, however, hot dogs. (The organic, grass-fed, nitrate free kind, of course!) She has started taking the bus to/from school occasionally and although she finds it a bit "boring," we know it's been a huge source of independence building. The tooth fairy visited has our house twice this year and we're predicting a whole lot more visits next year! Day by day, looking and acting less and less like a little kid and more like a big one, She is quite precocious and she keeps us on our toes.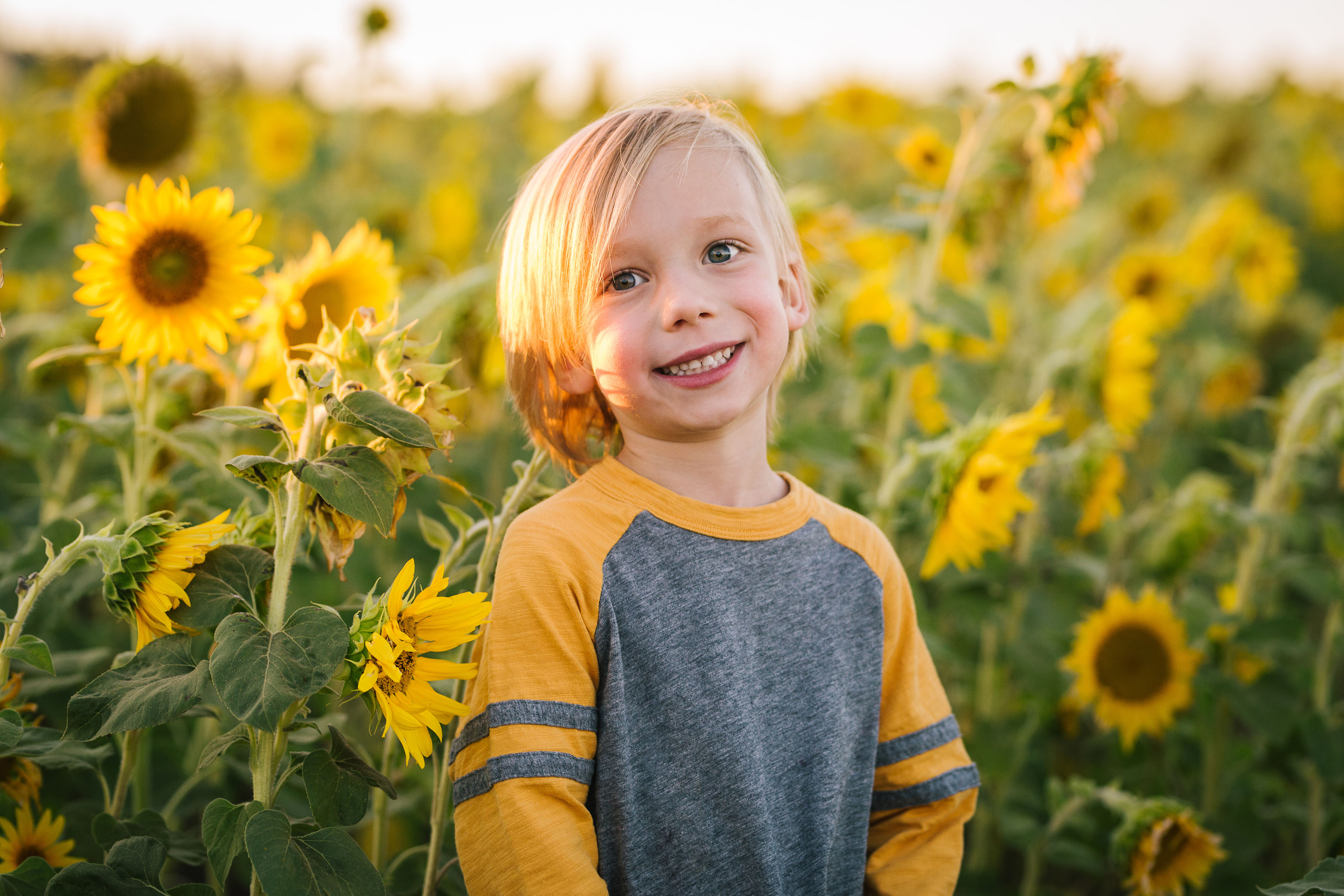 Townes (4 years old)
Townes is possibly a little mechanic in the making. Our little button pusher, switch flipper, knob turner – I can always count on him to turn all the lights off before we leave the house, start the washer and unlock the car. He loves to figure out how things work and is especially fascinated by remote controlled anything. We frequently find him "watching" Spotify, singing along to "The Beat Bugs" (A Netflix show based on tunes from the Beatles). He has formed lots of his own friendships this year in preschool and even requested some "drop-off" playdates! Still very attached in the overnight hours, Townes wakes up frequently requesting a "snuggle part-a-ner." He's a carb guy and can pack away an entire baguette if he's allowed. Still a very slender fella, our biggest struggle with Townes is keeping his pants pulled up. Perhaps Santa will bring him some suspenders? He's kind and gentle and although it takes him a good while to warm-up when he's in his comfort zone, he's a heart-warmer.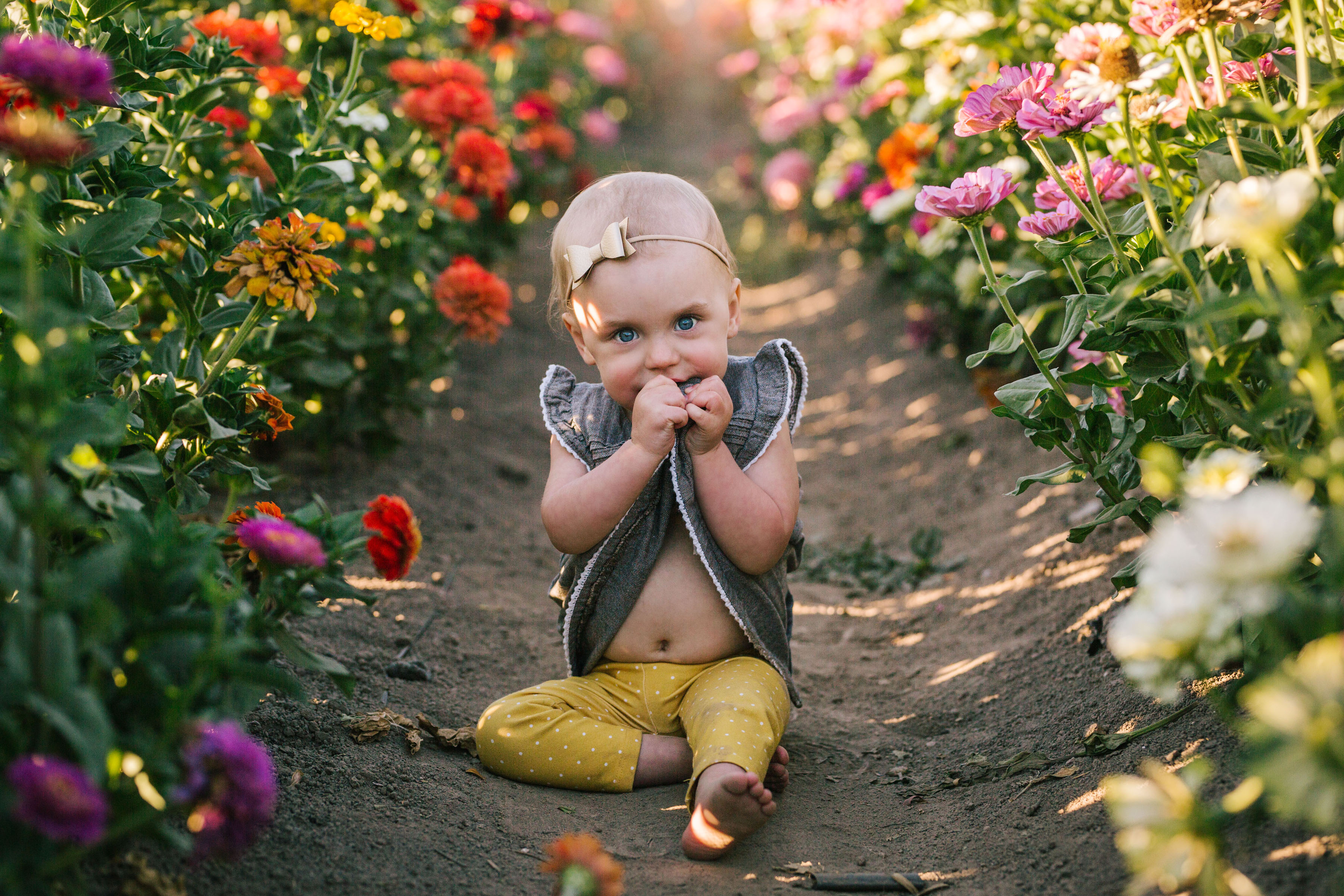 Fern (2 years old)
In complete toddler-fashion, Fern has entered the "getting into everything" phase. She loves her weekly sessions with our physical therapist, Helga and is working on taking facilitated steps, ascending/descending stairs and free standing. With her occupational therapist Stefanie, we have focused on troubleshooting sleeping and feeding challenges, sensory integration techniques, and productive play. Some next-level toddler proofing is in our future as Fern's most recent discoveries have included water in the toilet, removing items from the dishwasher, and climbing on top of things. She's lucky to have two of the most patient siblings who love to play at her level, to read and sing to her ("The Itsy Bitsy Spider" is her fav), and to chase her with the handheld vacuum. Quite the social butterfly, she recognizes familiar faces and loves it most when Townes' preschool class sings the goodbye song to her. Her giggle is the most magical sound and we can't wait for her to find her voice. She's mastered some big skills this year and made huge developmental gains! I'll save a true medical update for a separate post. We are constantly amazed at her and are celebrating every single milestone!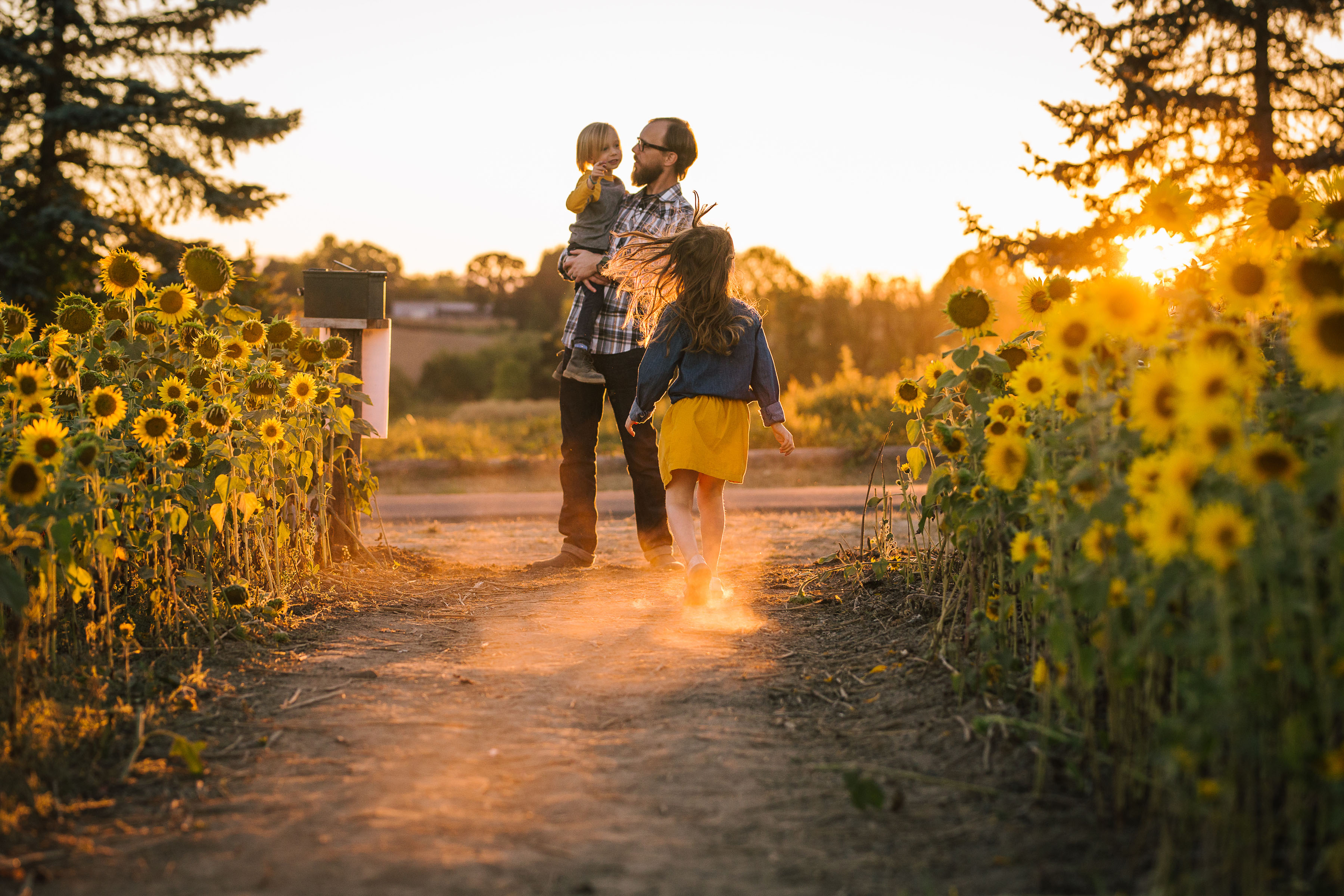 Dan
Mostly working on his intellect. Dan is frequently reading several books at the same time, and even squeezing a weekly Proust book club in. He finds time to read and learn (he's currently learning French!) on his bus ride to and from his new office downtown. He's continued to foster an interest in logic and philosophy, with some of this year's highlights at the intersection of the two with thinkers like Wittgenstein, Frege, and Quine. For the past 4 months, he's been working on starting a company and as the kids will tell you, "teaching cars how to drive themselves." He's a master dish-doer, coffee brewer, and breakfast burrito and waffle maker. He fills all the water bottles, reads all the books at bedtime, and never forgets to stock the fridge with all the finest PNW IPAs. He reminds me to stay positive, encourages me on the daily, and tries his hardest to get me to slow down long enough for some lovin'.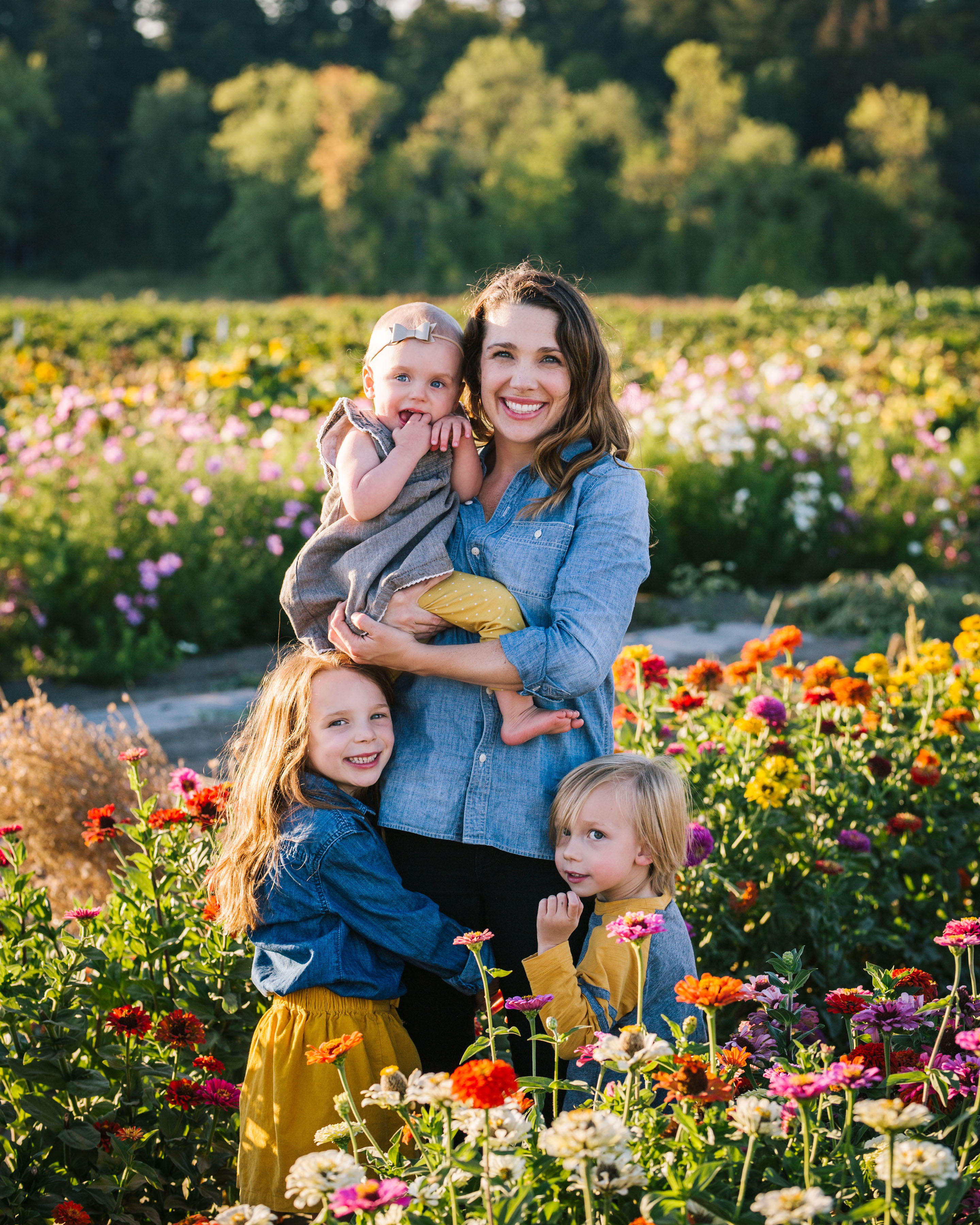 Meg (as seen by Dan)
Meg is the star at the center of the universe of our little family—keeping us all together. She's passed on her love for craft to both Townes and Olivia, keeping them well supplied for any creative endeavor they may wish to embark on. She also took up bullet journaling this year, the perfect outlet for an acutely organized person with an artistic bent. She's VP of the board at Townes' preschool and has been able to exercise those empathic (grown-up) people management skills she honed in school. But more than anything, she's the ideal mother to our children, loving them fiercely, patiently, and without asking for hardly anything in return (I think she would say a "thank you, mom" would be nice once in a while). She gives her whole self to us, and we are all so lucky to have her.