(Sincerest apologies if you are landing here from the link on our Christmas card! Should you wish to skip this post for something lighter, just scroll down… or go here)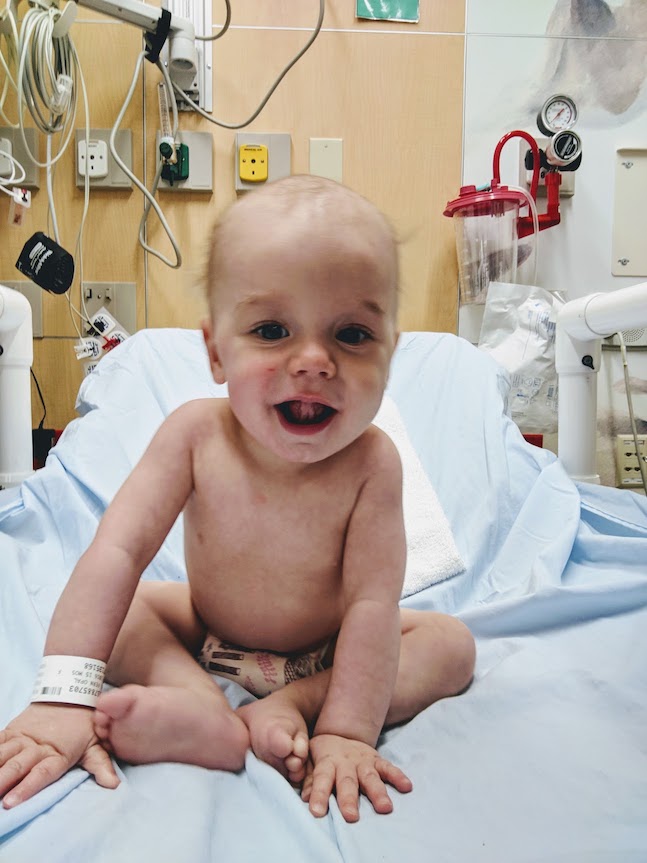 Over the past month, (I can't believe it's been a month since most recent trip to the ER! Time flies) we've seen both Fern's neurologist and cardiologist at OHSU and I just wanted to type up a quick update!
Following her seizures in the ER on black Friday, we were sent home with directions to follow-up with Fern's neurologist and orders for a sedated MRI . The ER doctors started Fern on an anti-seizure medication  (Keppra) at the lowest possible dose that theoretically should raise the threshold at which she would have a seizure, hopefully preventing any more seizures. Her blood work also came back showing that she was severely anemic so we started her on an iron supplement that she'll likely stay on until she starts ingesting more iron-rich foods.
Although it was tough to see our baby go under anesthesia, the MRI went very smoothly and the doctors were able to get great pictures of her brain. She tolerated the sedation well and didn't require any help keeping her vitals strong. Her blood pressure was somewhat alarmingly high during the test an the anesthesiologist felt that a follow-up with cardio was necessary considering her heart murmur.
Our appointment with cardio was VERY reassuring! Our doctor felt very confident that the VSD would still likely close on it's own. Although most cases of this kind of VSD close sometime in the first year of life, the majority of those that don't are still likely to close on their own within the first 5-6 years of life and don't require surgery. The location of the VSD is not cause for concern and in his opinion, not something they would operate on unless it was causing some kind of symptoms. More or less, his words were, "You've got a green light from cardio!"
The MRI results also came back "unremarkable" and as far as we can tell for now, Fern's brain looks totally normal. Obviously this is a huge relief and answered prayer but also leaves us a little in the dark as far as where to go next. Our neurologist recommended a referral to genetics next. Although we have already done extensive genetic testing (mostly when I was still pregnant) genetics may have some ideas on other syndromes, conditions, etc. to test for. She also recommended a referral to a pediatric ophthalmologist who might be able to provide another angle or opinion, also just checking another box/getting another "green light" to add to Fern's chart. She also sent us home with a prescription for a rescue drug (a suppository sedative) to use in the case that we are home and Fern has another seizure lasting longer than 5 minutes. Theoretically she should be able to stay home even if she has another short/mild seizure but we, of course, wouldn't hesitate to go back to the hospital if we felt like it was necessary or if anything new/different presented.
Cold and flu season has officially hit our home. I suspect that this is just a side effect of three young kids. Olivia came down with a nasty (likely flu?) bug on Christmas Eve. It would appear that Townes is next and we appreciate all the prayers in the world that we can keep it contained to just the two of them.